If you need a little help when it's time to pack your cooler, look for a high quality cooler basket. In no time you'll be a master cooler organizer. So, maybe you've had your Pelican cooler for years and have used it on many adventures. Or maybe you're looking to buy a new Pelican cooler and want to make sure you can get the most out of it on every adventure. Either way, these Pelican cooler accessories are here to make your cooler work even harder for you.
Dry Rack Baskets
The cooler baskets that Pelican makes for their hard-sided Elite Coolers are called dry rack baskets, and they come in a variety of sizes. In fact there are dry rack baskets available for all of the Elite Coolers with the exception of the 20QT Elite Cooler. There are a number of advantages to using a dry rack basket when you're
packing your cooler
:
Dry rack baskets elevate your food or other goods up above the ice, keeping them from getting wet.
Delicate items, like eggs or bread, in a Pelican cooler wire basket are protected from getting crushed by ice or larger items in the cooler.
A dry rack basket is a great cooler organizer because it provides a good place to keep smaller items so they don't fall to the bottom of the cooler and get lost.
Pelican cooler wire baskets were designed to be easy to lift right out of a Pelican Elite Cooler, so it is simple to access the food or drinks stored below them.
Of course, like all of the Pelican cooler accessories, the dry rack baskets are designed to last for a long time and stand up to rough use. These cooler baskets are made of powder-coated steel wire that resists corrosion, which is key when you're using a product in an environment that can be quite wet, like the inside of a cooler. Dry rack baskets are also easy to take care of and should be washed with soap and water before & after you use them,
just like Pelican coolers
!
Cooler Baskets and Cooler Dividers
If you have a 50QT or 70QT Elite Cooler and want to be a master cooler organizer, then you need the combined powers of the dry rack baskets and a
cooler divider
. With these Pelican cooler accessories you can effectively split your cooler into four different zones: two chill zones in the cooler baskets above the ice, and two cold zones in the ice on either side of the cooler divider. That's one chill zone for snacks and condiments, another chill zone for bread and other delicate items, a cold zone for your food, and a second cold zone for your drinks! You'll always know exactly where to find what you need inside your cooler. Just make sure you get the right combination of dry rack baskets to fit with a cooler divider in your cooler.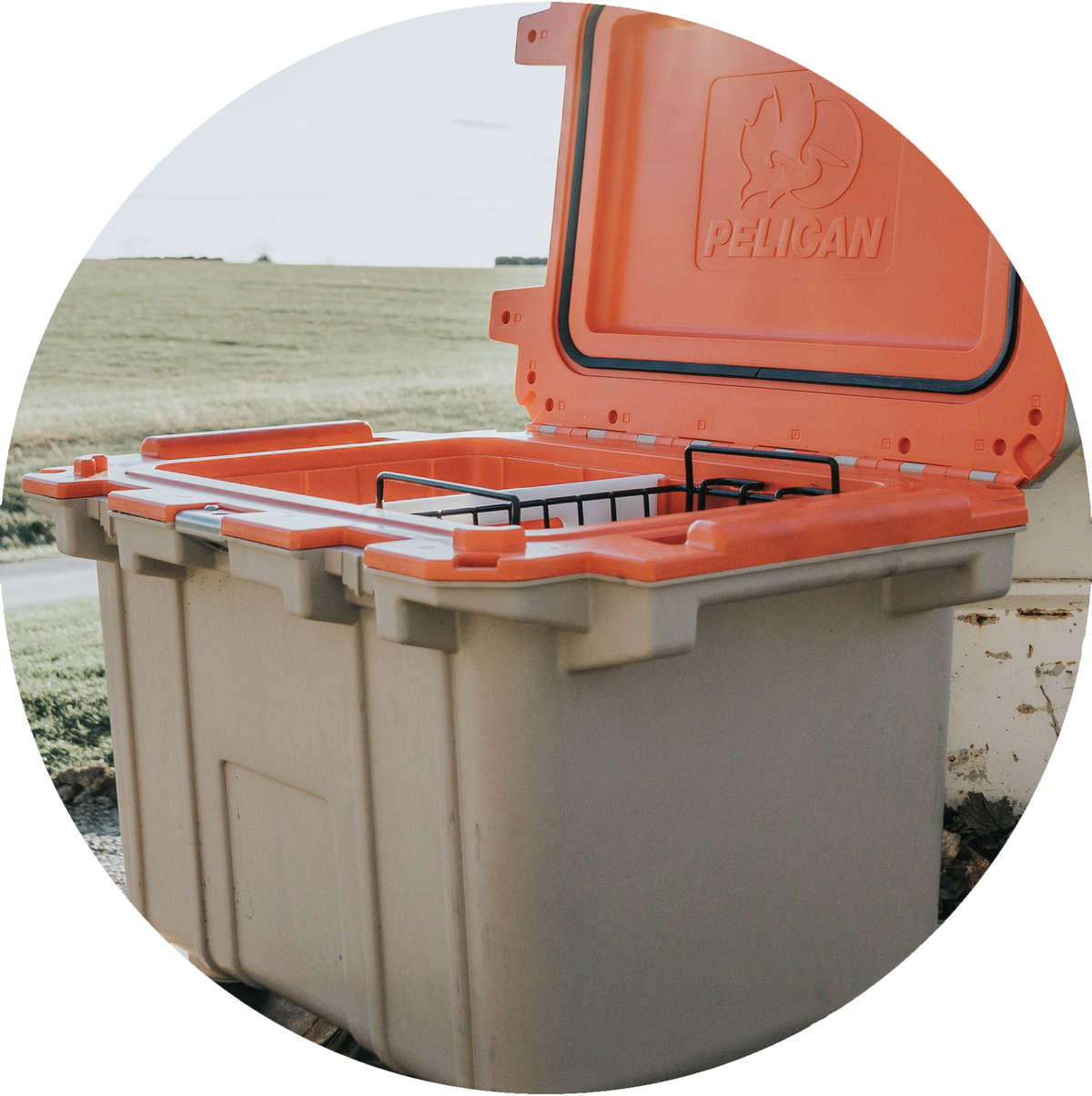 In a 50QT Elite Cooler
The 50/70 Quart Small Dry Rack Baskets will fit on either side of the Adventure Ready Camp Cutting Board + Cooler Divider in a 50QT Elite Cooler. The 50/70 Quart Large Dry Rack Basket will not fit with the Adventure Ready Camp Cutting Board + Cooler Divider in a 50QT Elite Cooler.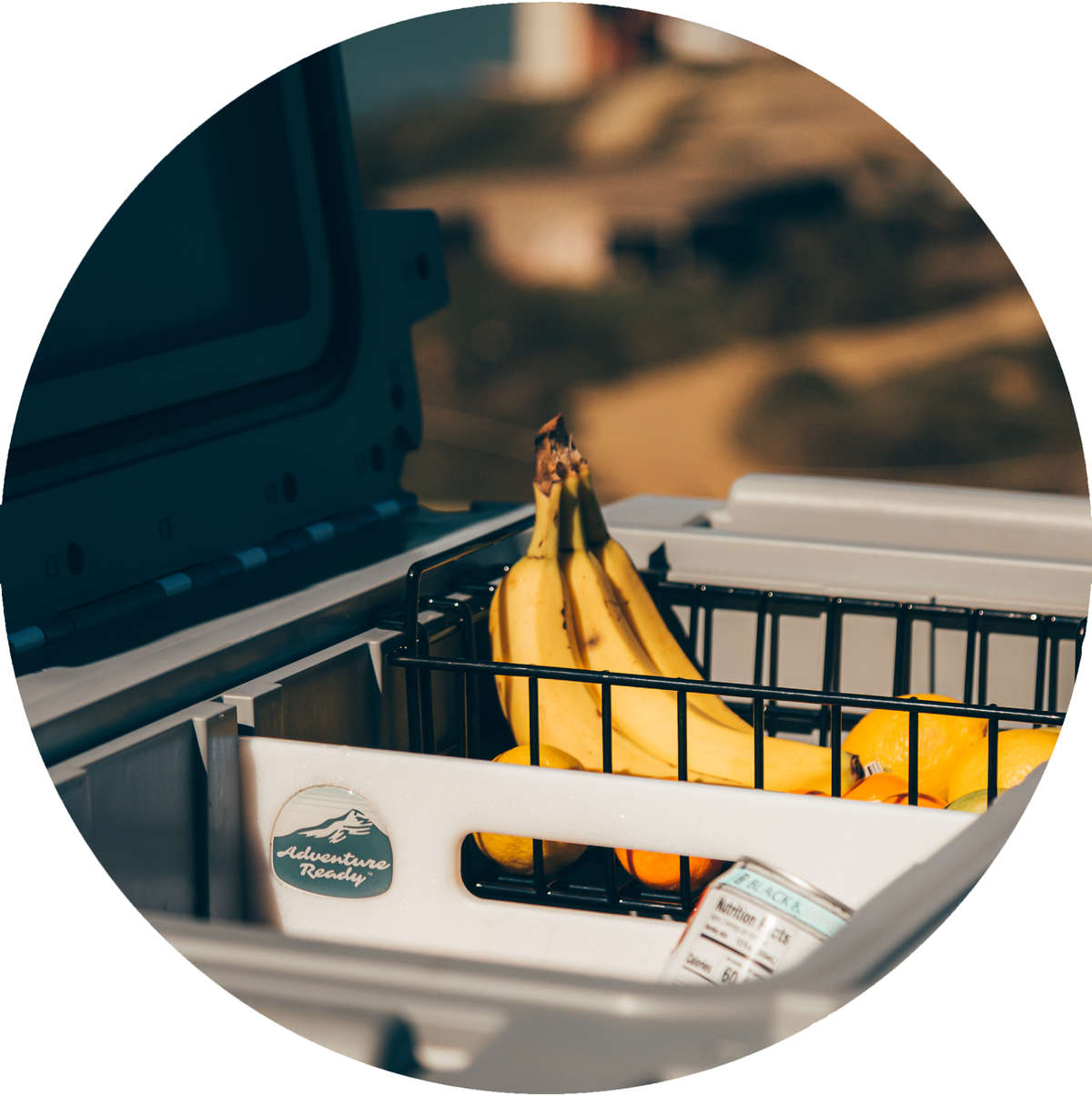 In a 70QT Elite Cooler
Both the 50/70 Quart Small Dry Rack Baskets and the 50/70 Quart Large Dry Rack Baskets will fit on either side of the Adventure Ready Camp Cutting Board + Cooler Divider in a 70QT Elite Cooler.
Make the Easy Choice and Get a Dry Rack Basket
The dry rack basket, more than any other Pelican cooler accessory, is the cooler organizer you've been looking for. These Pelican cooler wire baskets are simple to set in your cooler as you're packing and fill it up with all the items you want to keep chilled but not let get wet. And while you're out on your adventures, the dry rack basket in your cooler will keep things organized almost effortlessly. That kind of ease can't be overlooked. So pick up a cooler basket for your Pelican Elite Cooler now!