There are a lot of options when you're looking for a high-end, hard-sided cooler, and Pelican has some of the best options on the market: the aptly-named Elite Coolers. But even within Pelican's line of hard-sided coolers there are still a lot of options. There are
huge coolers
,
small coolers
,
wheeled coolers
,
rotomolded coolers
&
injection molded coolers
, and of course they all deliver amazing performance. So how do you start to narrow down the options? Try starting with the core of the Elite Cooler line.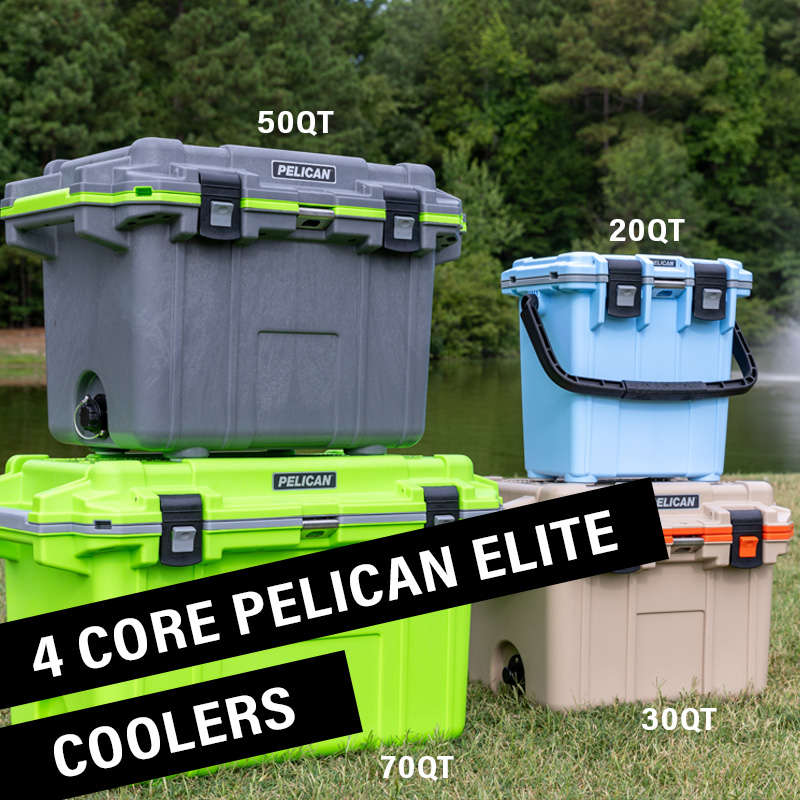 There are four coolers that make up the core of the Elite Cooler line: the
20QT
,
30QT
,
50QT
, and
70QT
. Introduced in 2016, these injection molded coolers changed the game in a market filled with rotomolded coolers. First, in a head-to-head competition of
rotomolded vs. injection molded coolers
, the injection molded coolers are just physically lighter than rotomolded coolers.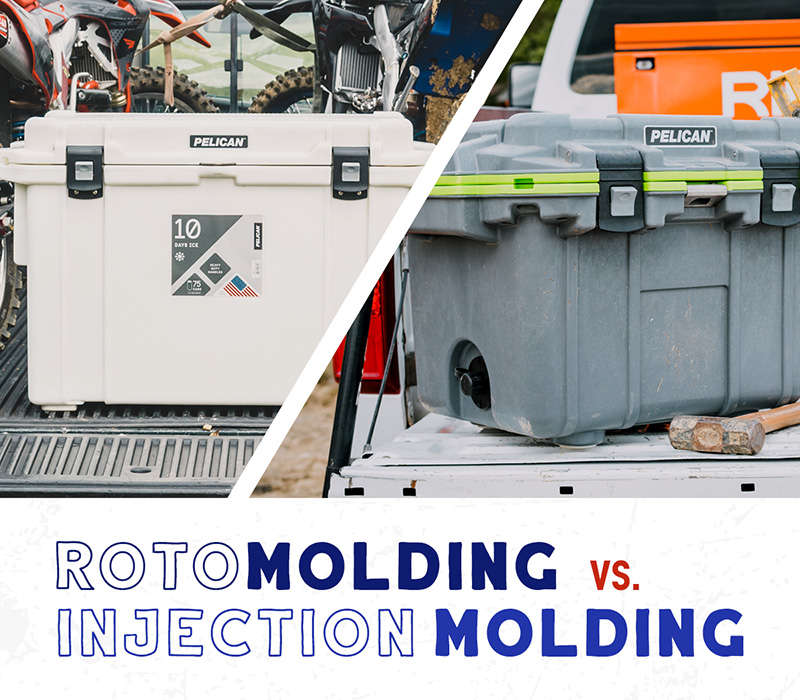 In some cases, an injection molded cooler is up to 30% lighter than a comparably sized rotomolded cooler. But even with that weight difference, there is no difference in performance in that same head-to-head match up. Injection molded coolers Elite Coolers still hold ice for days on end, and can even out-perform rotomolded coolers.
The other, more visually obvious, difference in the injection molded Elite Coolers is their dual-toned color combinations. Injection molding can't be used to create hollow objects like rotomolding can, but Pelican capitalized on this to create coolers that look like nothing else available, with a bold exterior highlighted by a contrasting interior. And the wide variety of color options means there is a Pelican Elite Cooler available to fit any style.
Pelican 20QT Elite Cooler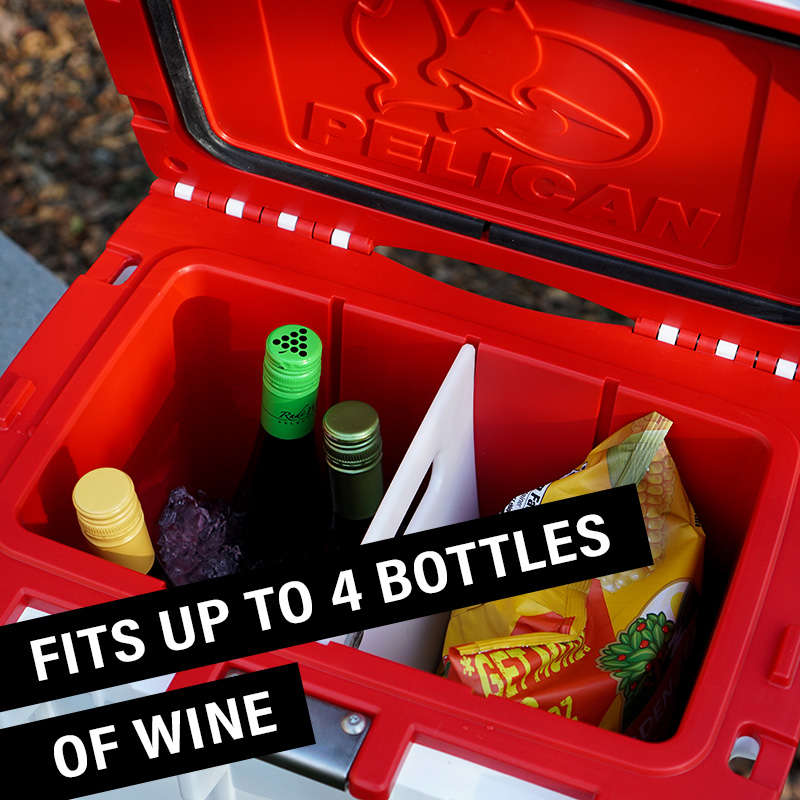 The 20QT Elite Cooler may be the smallest of the core Elite Coolers, but there's nothing small about it's performance. Thanks to its unique design it not only has plenty of room for fifteen canned beverages, but it's also tall enough to fit four wine bottles inside. That high profile also lets this durable cooler comfortably double as a seat if you run out of chairs around the campfire.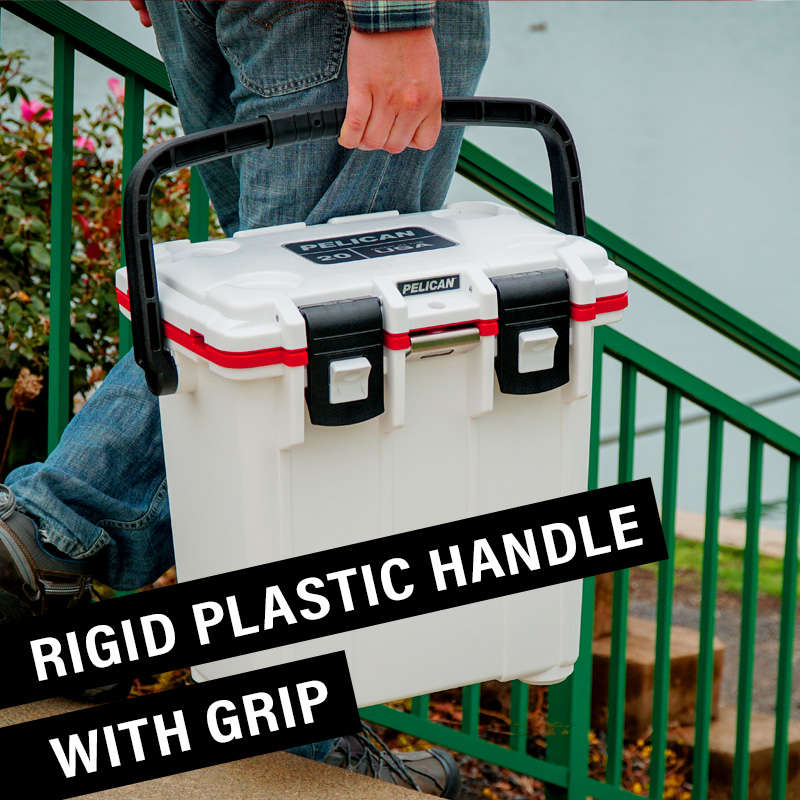 The 1" thick, continuous layer of insulation inside this cooler lets it hold ice for up to two full days with no problems. The 20QT cooler's small size makes it ultra portable. It's got a rigid plastic handle with a comfortable rubberized grip, so it won't swing awkwardly while you're carrying it, and it weighs in at a mere 12.5 lb empty. Plus, the 20QT Elite Cooler comes in 10 different color options that will fit any style.
After You Add Ice, WHAT FITS?
Lunch for two + 4 drinks or 15 cans or 4 bottles of wine
Pelican 30QT Elite Cooler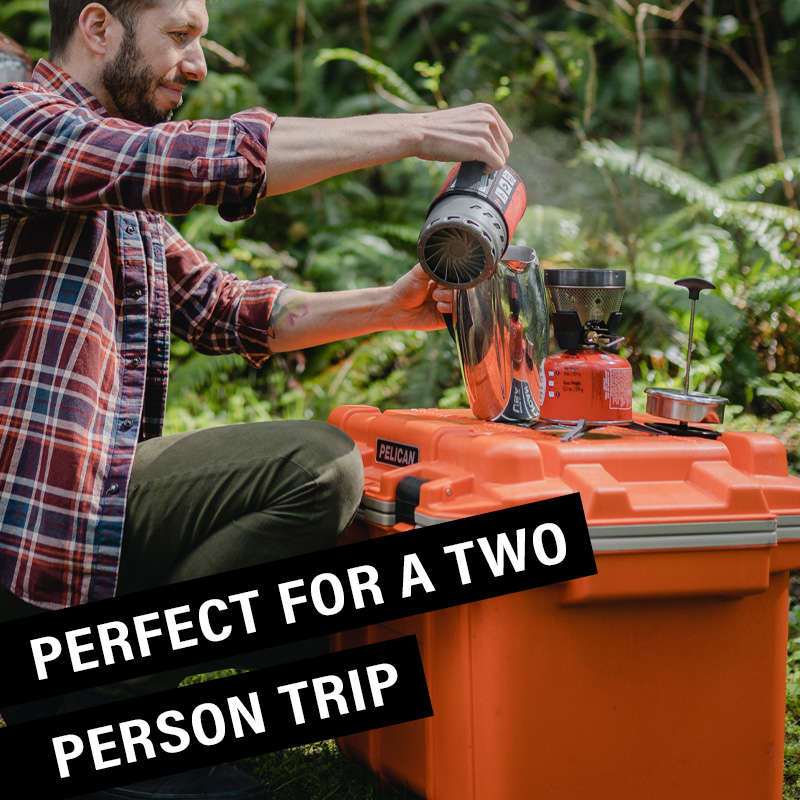 If you're going on a two-person trip, then you should seriously consider bringing along a 30QT Elite Cooler. As the core Elite Coolers get bigger, their performance skyrockets thanks to the increased amount of insulation they have. The 30QT Elite Cooler, along with the 50QT and the 70QT, has 2" of insulation.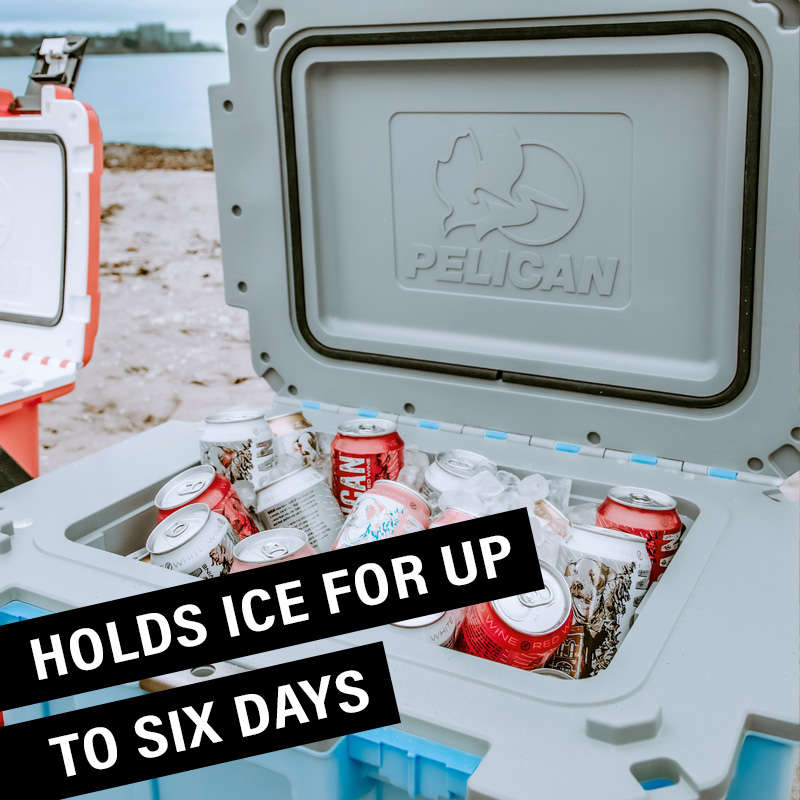 So where the 20QT can hold ice for a weekend, the 30QT Elite Cooler will hold ice for up to six days! Just follow the
2:1 ice ratio
and you will still have room for lots of food or 22 canned beverages. Either way, you'll be set for some true quality time on a trip for two.
After You Add Ice, WHAT FITS?
Food for a two day camping trip + 12 cans or 22 cans
Pelican 50QT Elite Cooler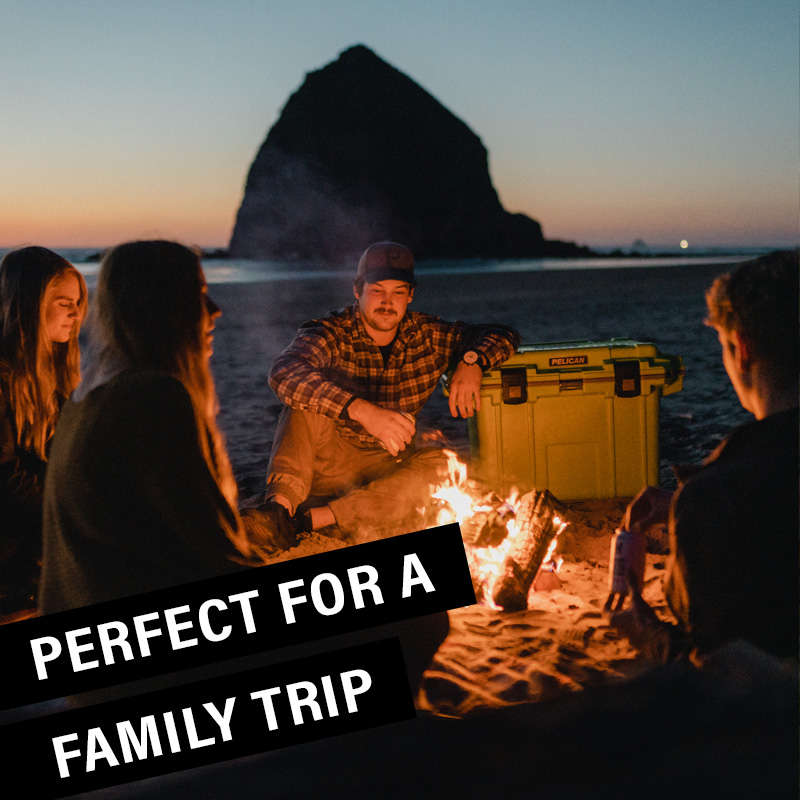 The 50QT Elite Cooler is the one to bring on a family trip. This 50QT cooler has plenty of room for food and drinks to last a long-weekend of camping for a family of four. You can count on everything to stay very cold thanks to the eight day ice retention you'll get from a 50QT Elite Cooler.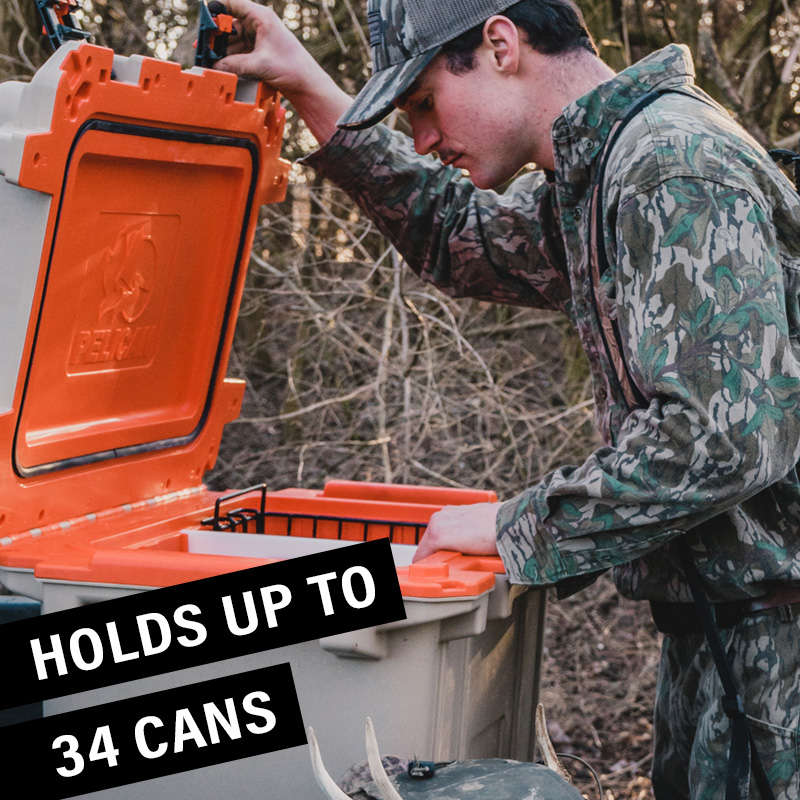 Or you can go on a longer trip and pack two of these coolers: one for food and one for drinks. This will increase ice retention in the food cooler, since you'll be opening it less, and you'll be able to keep up to 34 canned beverages frosty cold in the drink cooler. And that is just one suggestion to
get the best performance
from one of the core Elite Coolers!
After You Add Ice, WHAT FITS?
Food for a small family or crew for 5–6 days + 24 pack or 34 cans
Pelican 70QT Elite Cooler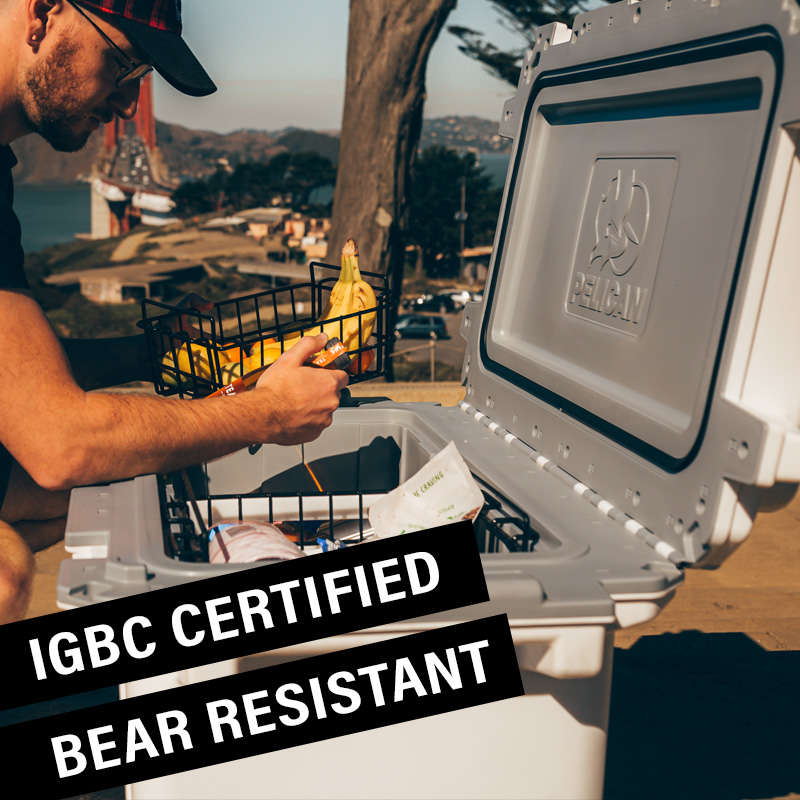 As the biggest of the core Elite Coolers, the 70QT Elite Cooler is for the longest journeys, the biggest undertakings, the most extreme adventures. How extreme? Well, let's just say that it's tough enough to keep out a bear. The IGBC tested the 70QT Elite Cooler and declared it to be bear-resistant! How well do you think you'd hold up against a grizzly for an hour?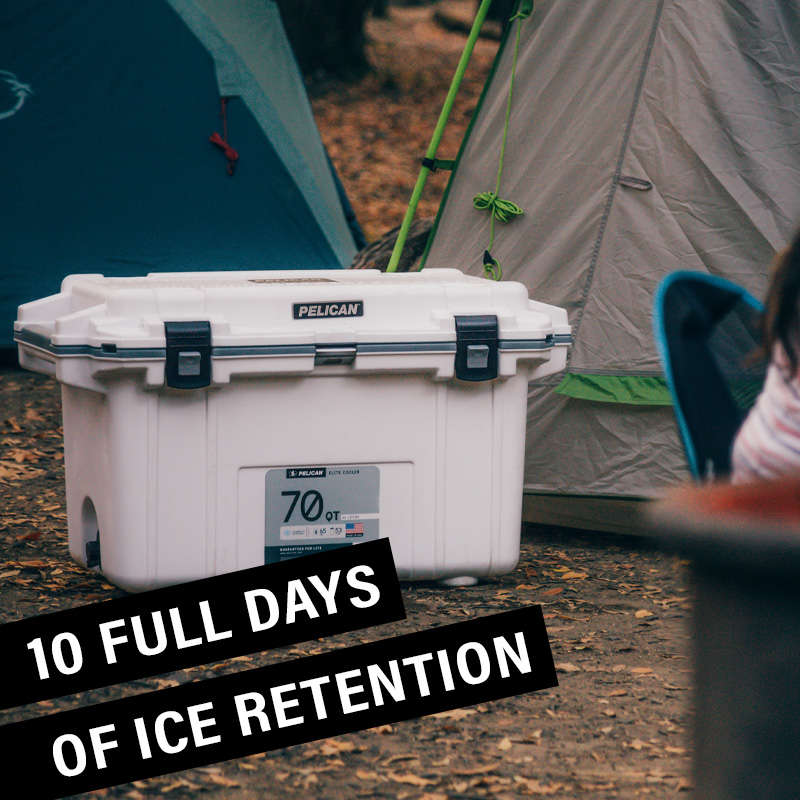 This 70QT cooler will hold ice for up to nine full days and can carry 46 canned beverages! So start planning that crazy adventure now, because this cooler is ready to go on it with you.
After You Add Ice, WHAT FITS?
Food for a small family or crew for 7 days + 24 pack or 46 cans
Standouts For All the Right Reasons
In a market filled with squat, heavy rotomolded coolers in muted colors, the core Pelican Elite Coolers are true standouts! And it isn't just the design that makes them stand out. Their incredible performance will always deliver, and can even be increased with a couple of key
accessories
. And this phenomenal performance is backed up by a lifetime warranty. That's not as common in high-end coolers as you might expect. If you still can't decide which cooler you need, why not get several? With two or more core Elite Coolers you will be sure to have the best cooler in the perfect size for any adventure.