Looking for vaccine transport coolers for your healthcare system? Look no further than Pelican Elite Coolers. You won't find the combination of mobility, performance, durability, and ease of use provided by these coolers anywhere else!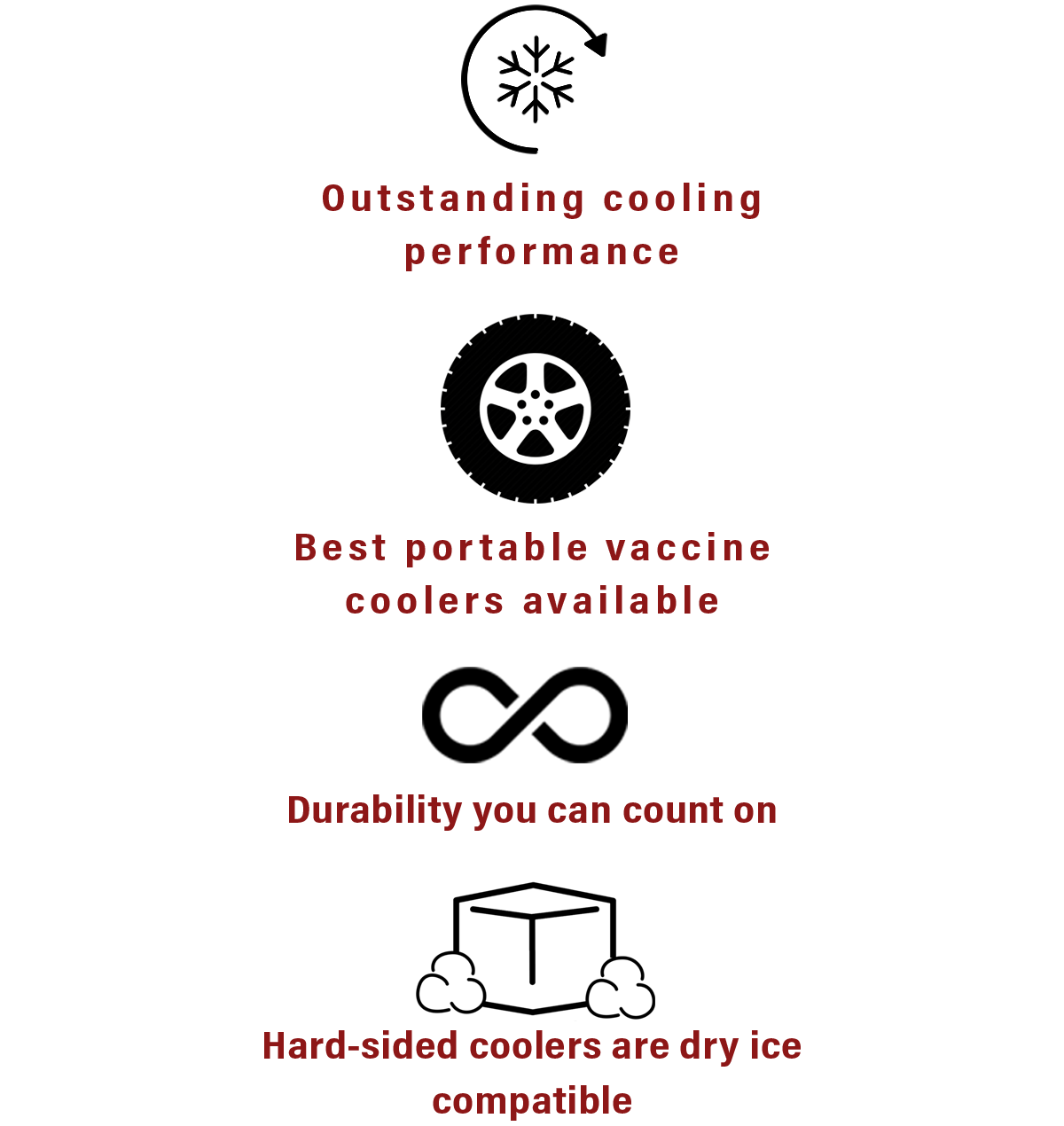 Performance
Sturdy, molded-in handles make
Pelican Elite Coolers
the best portable vaccine coolers available. These handles won't cause awkward swinging while the cooler is being carried, unlike the rope handles featured on other coolers. Of course, if you want the ultimate vaccine transport coolers, reach for the the
Pelican Elite Wheeled Coolers
with their 8" plastic wheels & trolley handle. It's never been easier to pick up and go than with one of these coolers.

Mobility
Pelican Elite Coolers
can deliver extreme ice retention. These coolers contain 2" of polyurethane insulation and utilize a freezer-grade gasket to keep the cold in. From the
30QT Elite Cooler
that can hold ice for up to 6 days to the
80QT Elite Wheeled Cooler
that can hold ice for up to 10 days, any
Pelican Elite Cooler
will hold ice long enough to transport your vaccine doses wherever you need them to go. You can even create a portable deep freeze in a
Pelican Elite Cooler
with dry ice. The gasket in these coolers features a small gap (between 1/8" and 1/4") that acts as a pressure release, making the cooler easier to open and allowing sublimating gases to escape.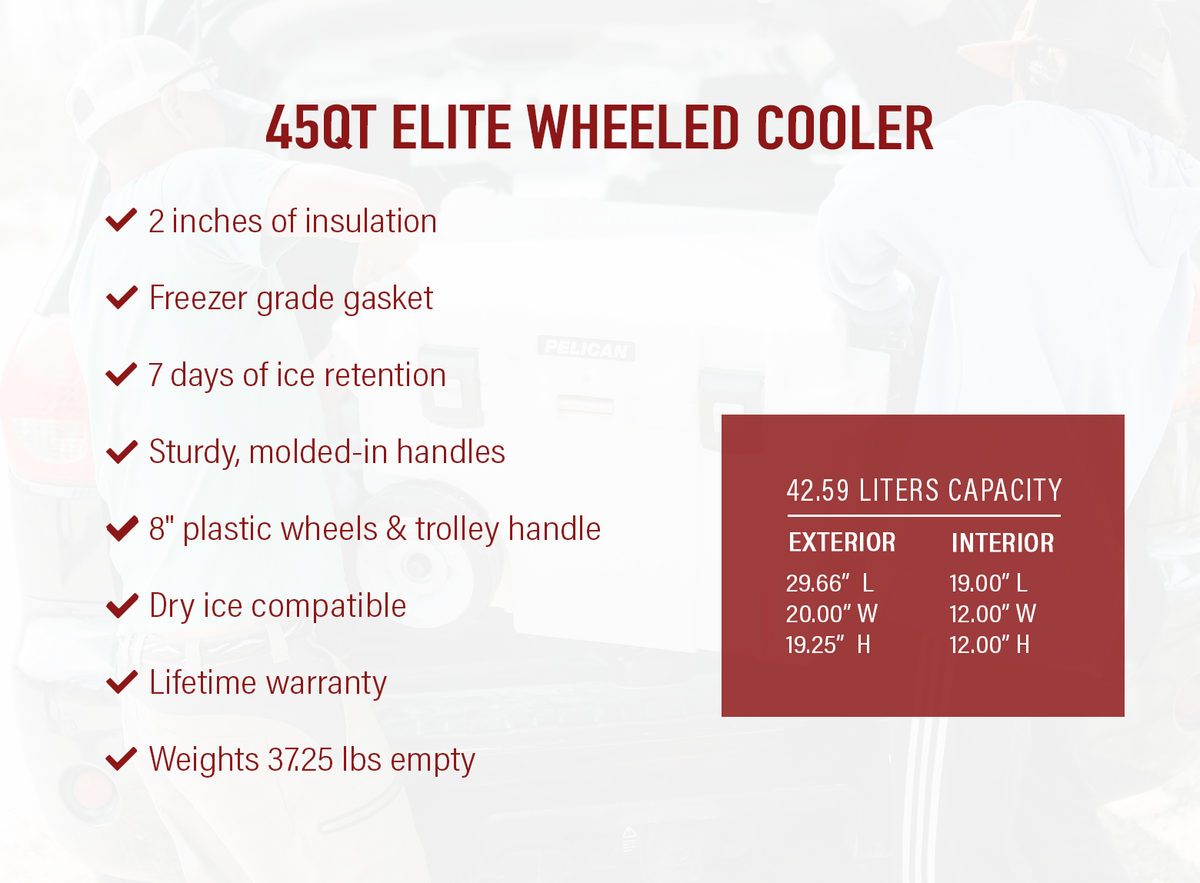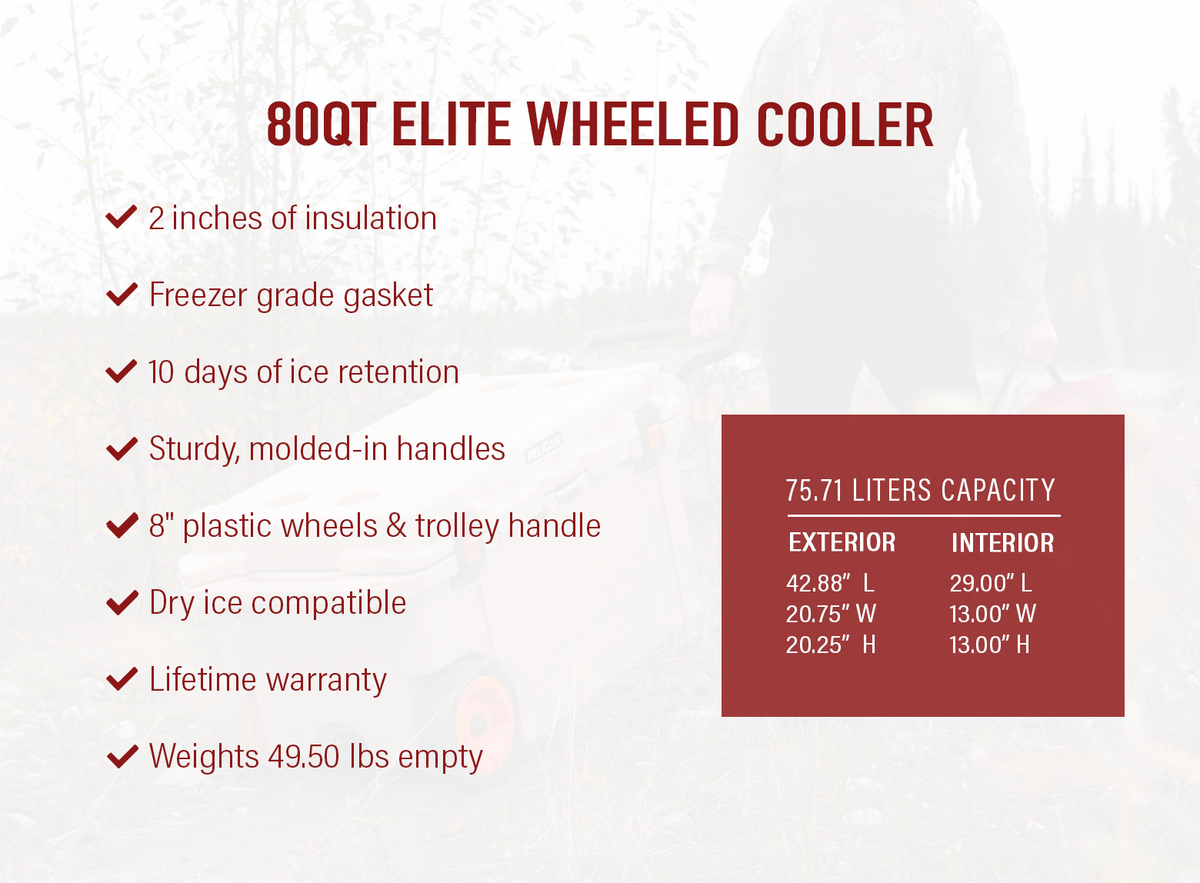 Durability
You can depend on
Pelican Elite Coolers
to be protective, portable vaccine coolers thanks to the durable materials they are made of: stainless steel hardware, reinforced corners, anti-slip rubber feet. Better still, all hard-sided
Pelican Elite Coolers
are backed up by a lifetime warranty. You can take the cost of replacement coolers out of your annual budget forever. After you are finished using
Pelican Elite Wheeled Coolers
as vaccine transport coolers, they can be used for years to transport other medicine and blood products.

Ease of Use
Pelican Elite Coolers
feature unique press & pull latches unlike any other others on the market. These latches stay shut until you open, which you can do one-handed. No more struggling with difficult to use rubber latches. Last, but certainly not least for a vaccine transport cooler,
Pelican Elite Coolers
are made to be easy to clean. The polypropylene walls of the cooler are non-absorbent and easy to sanitize. And the built-in drain makes it much easier to give the cooler a deep clean when it needs one.