People love Pelican Elite Coolers because they're so eye-catching! Bold colors on the outside are highlighted by the contrasting interior. Our mission is to provide our customers with an exceptional experience, and to do that we work closely with Pelican so that we can offer the widest selection of color options of any distributor. Our custom colors are among the most popular colors that we sell, and when they sell out our customers want to know when they'll be back and what the next custom color will be.
Well the wait is over!
We have a fresh batch of the Lime Green/Grey and Orange/Tan Pelican Elite Coolers waiting for you in our warehouse. For the last few years these custom colors have gained in popularity, selling out again and again. Just like last year, the Lime Green/Grey coolers are available in all four Pelican Elite Cooler core sizes:
20QT
,
30QT
,
50QT
, and
70QT
. And even more exciting, in addition to being available in the
20QT
and
30QT
coolers, this is the first time that the Orange/Tan is available in the
50QT
and
70QT
coolers, which means you can be among the first people anywhere to have one of these great looking coolers for your own!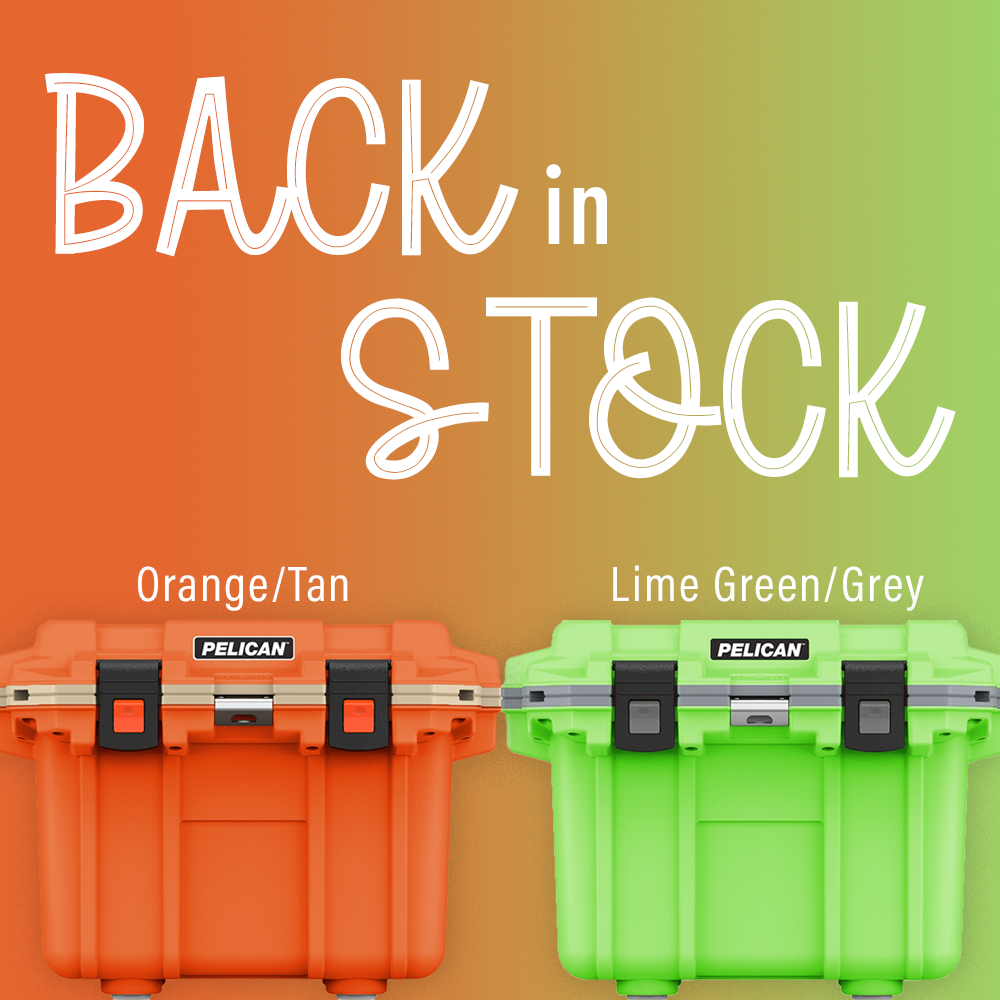 20QT Pelican Elite Cooler
30QT Pelican Elite Cooler
50QT Pelican Elite Cooler
70QT Pelican Elite Cooler
20QT Pelican Elite Cooler
30QT Pelican Elite Cooler
50QT Pelican Elite Cooler
70QT Pelican Elite Cooler
Say Hello to New Twists on Old Favorites
Every year we try to bring out one new limited edition custom color. In 2019 we released the
Coral/White 20QT Elite Cooler
inspired by Pantone's Color of the Year. In 2020 we're getting back to basics with not one, but two limited edition custom colors!
Keep things crisp and clean with one of the new
White/Red 20QT Elite Coolers
. The
White/Grey
is a classic color combination for Pelican Elite Coolers, and this new color combination takes that classic and gives it a saturated pop of red. You'll always be able to spot your cooler, no matter how crowded the beach or park gets. But don't wait too long to order a
White/Red
cooler. It's a truly limited edition and once it's gone it won't be back!
Shop 20QT White/Red
The original OD Green/Tan color was a perennial favorite until it was discontinued at the end of 2019. Well we didn't want to let it go, so now it is back with a twist! The new
OD Green/Orange 20QT Elite Cooler
stands out thanks to the vivid orange interior and latches. This color is perfect for everyone who loves the outdoors. Hurry to get one, because the
OD Green/Orange coolers
are selling like hot cakes. There's more on the way, but you don't want to miss out!
Shop 20QT OD Green/Orange