You can make every day an adventure with the
Pelican 14QT Personal Cooler & Dry Box
. There is a reason this is the most versatile personal cooler on the market: it's packed with features that make it work for you! So get ready to learn all about Pelican's personal cooler, because when you're done, you'll want one for yourself.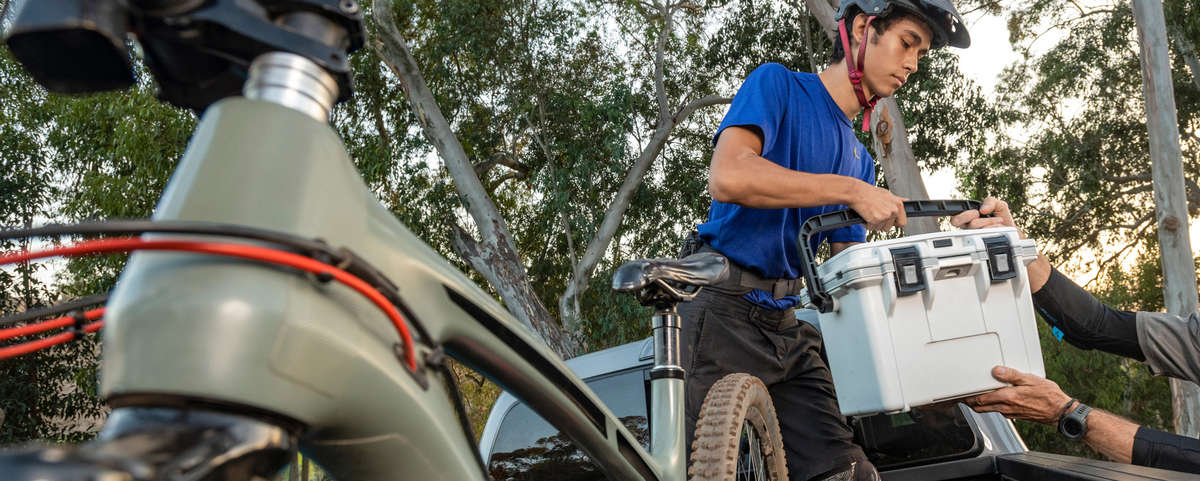 Classic Pelican Cooler Features
You already know how amazing Pelican's hard-sided coolers are. They've been delivering on one adventure after another for years now. So it's no surprise that Pelican's personal cooler is filled with features that you're already familiar with from their other hard-sided coolers.
A High Performance Cooler From Pelican
This versatile personal cooler is made by Pelican, so there are some things you can expect from it without question. It features a thick, continuous layer of insulation to give you maximum ice retention. The 14QT Personal Cooler can hold ice for up to 36 hours, so your drinks will stay frosty all day long. This cooler, like all Pelican coolers, is also true to capacity, which means you have a full 14 quarts inside to use as you need to! This is the perfect lunch box cooler because when you follow the
2:1 ice ratio
, you'll have room for 6 canned beverages plus food. You can even give your cooler's ice retention a boost by using two
1lb Pelican Ice
packs or one
2lb Pelican Ice
pack inside.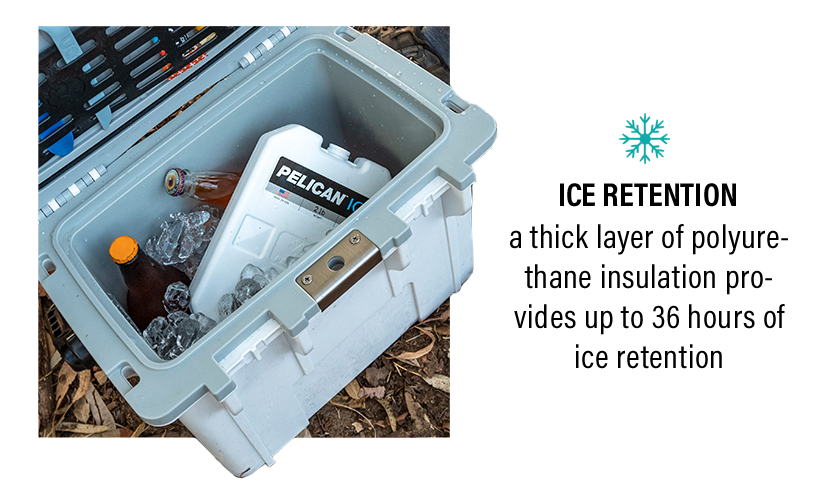 The Hardware You're Familiar With
Hard-sided Pelican coolers are famous for their unique press & pull latches. These latches stay shut until you open them, but they're easy to open one-handed even if you're wearing gloves or have limited dexterity. So of course you'll find them on the new 14QT Personal Cooler. After all, it couldn't be called a Pelican cooler without them. You'll also find a stainless steel bottle opener built into the lock hasp of the 14QT Personal Cooler. But on this cooler, the bottle opener has been updated with a cap-catching magnet. Now your lunch box cooler will help keep your meal site cleaner than ever.
Thoughtful Design with You in Mind
The lid of this cooler features two molded-in drink holders, so you have somewhere to set your drink while you're eating. You'll also find molded-in tie down slots so you can keep your cooler secure while you're traveling with it. Of course, Pelican's personal cooler is also easy to carry around thanks to several design features borrowed from the
20QT Elite Cooler
: a rigid carry handle and an EZ carry groove that allows the cooler to be more comfortably held at your side.
Brand New Features for this Versatile Personal Cooler
It isn't enough for this Pelican personal cooler to be a rehash of older models though. It needs to bring something new to the table in order to earn its place in your adventures. Fortunately, the 14QT Personal Cooler & Dry Box has plenty of tricks up its sleeve.
The Right Accessories for a Lunch Box Cooler
The 14QT Personal Cooler comes with two great accessories to help you keep your food and drinks organized: a plastic inner tray and a flexible, snap-in lid organizer. The inner tray helps make this the perfect lunch box cooler. It creates a cool & dry zone that keeps your food from getting wet or crushed by the ice and drinks in the chill zone below. No more smashed sandwiches! Pelican's 14QT Personal Cooler is also their only cooler with a lid organizer. This flexible organizer can be used to keep cutlery close at hand or flat snacks, like nut bars or fruit leather, out of the way.
Putting the Dry Box in Personal Cooler & Dry Box
What really sets the 14QT Personal Cooler apart from any other personal cooler on the market is the dry box that is integrated into the lid. It provides you with dry storage that is right there with you wherever you have your cooler. This dry box is great for stashing maps and notebooks that need to come on your adventure, or keeping your phone or tablet out of the rain. You can also use the phone/tablet easel slot to prop your electronics upright against the lid of the dry box. When you're watching a video on your phone while you're on your lunch break, you'll be getting the most out of this lunch box cooler & dry box.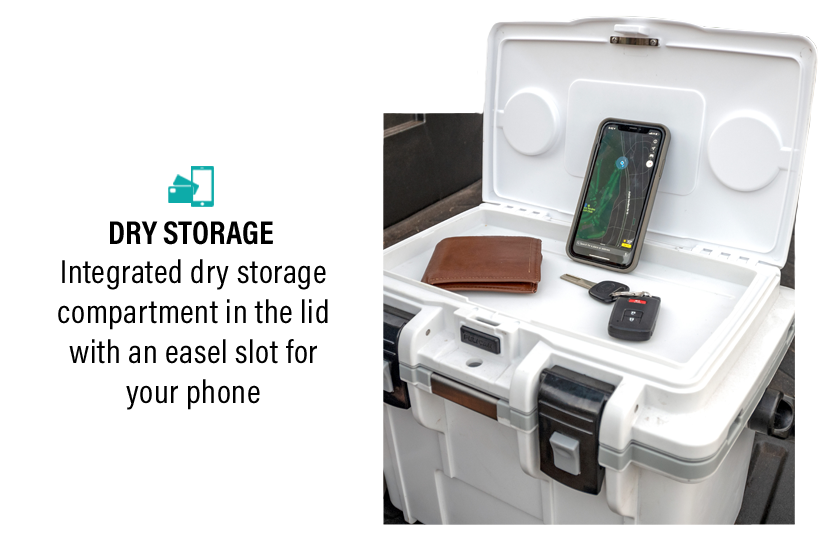 A Warranty You Can Count On
You love Pelican because they believe in their products and back them up with a great guarantee. Well, Pelican's personal cooler is no exception. The 14QT Personal Cooler & Dry Box comes with a
three-year warranty
that will keep you adventuring for years.
Pelican's Personal Cooler is Your Personal Cooler
The 14QT Personal Cooler & Dry Box has all the features you want in a personal cooler, and the price is right. Plus at EliteCooler.com you get free shipping in the contiguous United States on every 14QT order. It isn't every day that you get the chance to be one of the first to get a new product, but today is that day. Snag the most versatile personal cooler on the market now before they're gone!