For everyday use, you need to have a portable cooler. A cooler with just enough room for what you need that's easy to pack and carry around. But how do you decide what the best small cooler is for you? You're going to need to answer a couple of questions:


Do you want a hard-sided cooler or a soft cooler?
How much room do you need in an everyday cooler?
What kind of warranty do you want your cooler to have?
Answering these questions only takes a moment, and taking that moment makes it easy to determine what the best everyday cooler is for you! You can even use this handy flowchart as a guide. Then check out the blog below to learn more about the best small coolers that Pelican has to offer.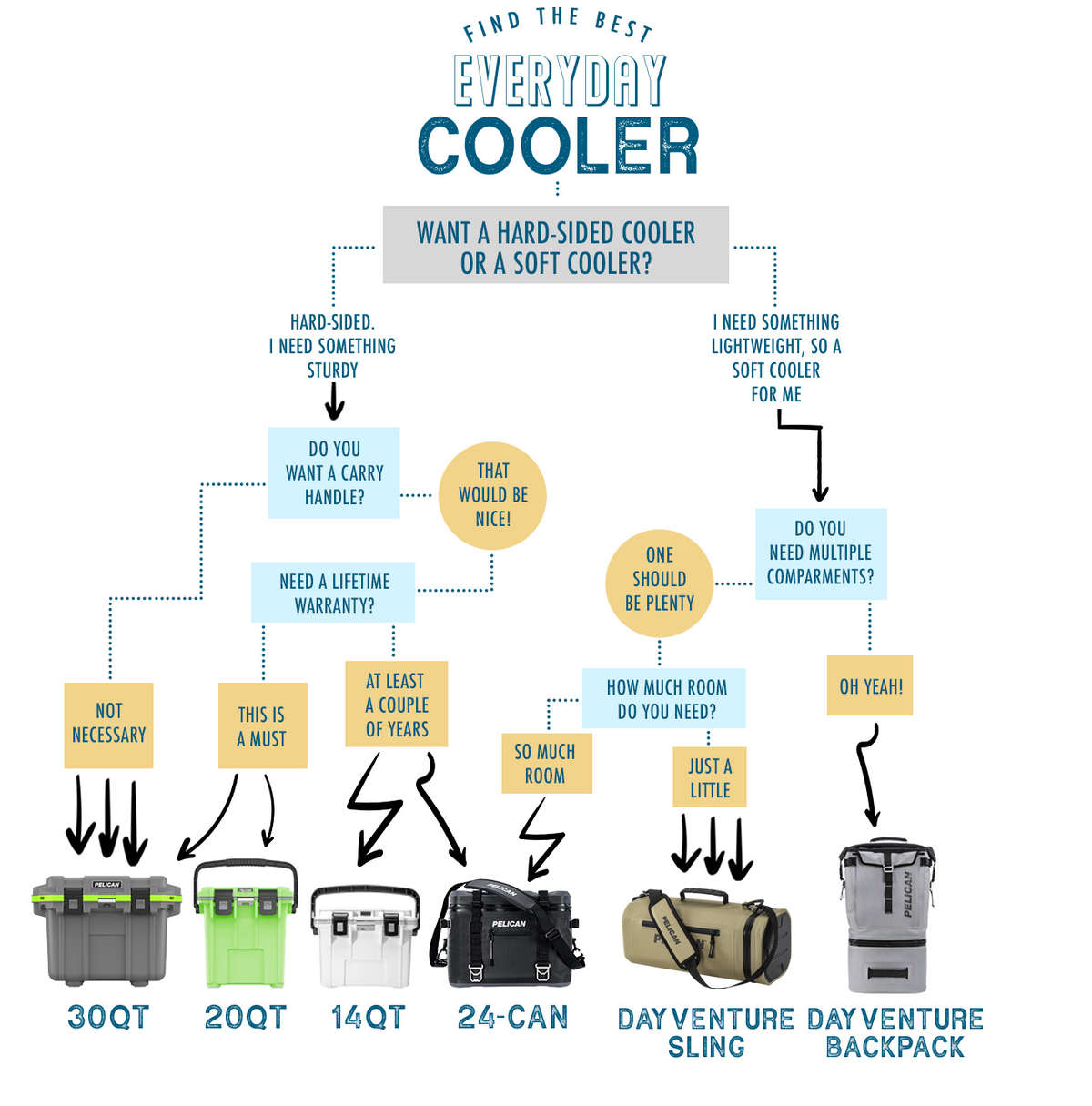 Hard-sided Pelican Coolers for Everyday Use
Pelican makes a number of
hard-sided coolers
, and while the 250QT Elite Cooler may be too big for everyday use, there are still plenty of options to choose from when you're looking for the best everyday cooler. The biggest advantage to choosing a hard-sided cooler for everyday use is the increased durability it brings to the table. Pelican coolers are made tough, and the hard-sided coolers can stand up to the roughest use without sacrificing performance. Another advantage that hard-sided coolers bring to the table is a thicker layer of insulation, which means that even the smallest hard-sided Pelican cooler has excellent ice retention every day. So, could one of these hard-sided coolers be the best small cooler for you?
The Newest Pelican Cooler is the Best Personal Cooler
It's easy to tell which Pelican cooler is the best personal cooler. After all, it's right there in the name: the
14QT Personal Cooler & Dry Box
. Pelican's smallest hard-sided cooler brings a lot to the table. There's the flexible, snap-in lid organizer and plastic inner tray inside the cooler to keep your food organized. Underneath the inner tray there's plenty of room for a six-pack of canned beverages and plenty of ice to keep them frosty for 36 hours. And then there's the dry storage integrated into the lid of this cooler, something no other cooler on the market features. This personal cooler also comes with a 3-year warranty so you can use it without worrying. It all comes together to make the best personal cooler available. You won't ever look back once you've got a 14QT Personal Cooler & Dry Box.
The Classic Best Everyday Cooler
The
20QT Elite Cooler
is another hard-sided, highly portable cooler. This one is a little bigger than the 14QT Personal Cooler & Dry Box, and that extra space inside gives you the ability to bring a few more snacks, a couple more drinks—enough for two people even. The 20QT Elite Cooler will hold 15 canned beverages with twice as much ice to keep them frosty for up to 2 days. This cooler is even tall enough to fit 4 bottles of wine, if that's your beverage of choice. The tall design of this 20 quart cooler is different from other similarly-sized coolers on the market. The higher profile and sturdy design let it function as a seat when needed. This design also makes it simple to pack this cooler behind the front seat in your car. So pack up this Pelican cooler every day before you head out the door. You know it will come in handy!
A Slightly Bigger Cooler for Everyday Use
If you need to straddle the line between having a portable cooler and having a cooler that will hold ice for more than one or two days, the
30QT Elite Cooler
is exactly what you need. Two full inches of insulating polyurethane foam give this cooler the ability to hold ice for up to six days! And it's big enough to hold 22 canned beverages while following the 2:1 ice ratio. Besides being bigger than the other coolers on this list of best everyday coolers, the 30QT Elite Cooler is the only cooler on the list that doesn't have a handle that arches over the cooler. Instead, it has two sturdy, molded-in handles on either side of the cooler, which makes moving the cooler a breeze—even if it is a little bigger. Pelican also backs up the 30QT Elite Cooler, as well as the 20QT Elite Cooler, with a lifetime warranty, which means you'll be using it every day for a very long time. Decision made, right?
Pelican Makes the Best Soft Coolers
Sometimes a hard-sided cooler is not the best everyday cooler. Hard-sided coolers can be heavy, and even the most portable hard-sided cooler can be awkward to carry for a long time. But you still have plenty of options! You should check out
Pelican's collection of soft coolers
. These are the best soft coolers available. They're all made of TPU double-coated, 840D nylon that is water and puncture resistant. Inside this nylon shell is a layer of high-density, closed-cell insulation to provide enough ice retention to see you through the longest day. Finally, all Pelican soft coolers have padded shoulder straps so that they're comfortable to carry long distances. It's time for you to discover which Pelican soft cooler is your best soft cooler for everyday use!
Give the Best Backpack Cooler a Try
Backpack coolers are available from many brands, but the
Dayventure Backpack Soft Cooler
is the best backpack cooler out there. The reason Pelican's backpack soft cooler stands apart from the competition is because it features multiple compartments for maximum organization, unlike most backpack coolers. The bottom compartment is a dedicated cooler compartment, big enough for a six-pack of canned beverages, kept shut with a leak-resistant zipper. The top compartment is more lightly insulated, perfect for food and snacks, and utilizes a wide roll top opening for easy access. A roomy front storage pocket provides additional organization for small items that don't need to be kept cool. Of all the coolers on this list of best everyday coolers the Dayventure Backpack Soft Cooler may be the most portable cooler. That's because you can carry it hands-free thanks to its two padded shoulder straps and adjustable sternum strap. It's hard to find a downside to having two free hands while you're out adventuring with the best backpack cooler.
The Best Small Cooler Has Plenty of Room Inside
The
Dayventure Sling Soft Cooler
may have the smallest capacity of any Pelican cooler, but it's design and performance make it an obvious choice for best small cooler for everyday use. While this soft cooler may have been designed to prioritize a small size, that design also leaves lots of room within it for drinks. You'll easily fit 12 canned beverages—or even four bottles of wine—inside this sling cooler. That's a capacity comparable with the 20QT Elite Cooler. The wide opening of this cooler is closed by a leak-resistant zipper, so the ice in your cooler will stay there, even after it starts to melt at the end of the day. After you pack up this cooler, it's simply a matter of using the padded over-the-shoulder strap to sling it around yourself and head off on adventure.
The Original Pelican Soft Cooler
No conversation about the best soft coolers would be complete without mentioning the original Pelican soft cooler: the 24-Can Elite Soft Cooler*. This is the biggest of the soft coolers included in this list of best everyday coolers. The cooler's size is an advantage over the other soft coolers on this list, because it gives the Elite Soft Cooler* the ability to hold ice for up to two days. The 24-Can Elite Soft Cooler* is also big enough to hold (as the name suggests) 24 canned beverages. That's a lot of room, comparable with the 30QT Elite Cooler. Yet the Elite Soft Cooler* weighs in, when empty, at a quarter of the weight of an empty 30QT Elite Cooler. When you're looking for a portable cooler, that is the kind of difference that counts! And when it comes to portability, the 24-Can Elite Soft Cooler* gives you plenty of options. In addition to the padded over-the-shoulder strap, it also features a carry handle on either side of the cooler. So you can carry it in your hands, or two folks on either side can carry it together. Who are you going to ask to join you when you're using this soft cooler?
Adventure Every Day with the Right Cooler for You
The key to finding the best everyday cooler for you is to ask yourself all the right questions. Once you've done that, it's only a matter of narrowing down the options. And whether you're looking for the best small cooler, the best backpack cooler, or the most portable cooler to use everyday, there is a Pelican cooler that will fit your needs. With a dependable cooler to use everyday, there won't be anything holding you back from all the adventures you want to go on.